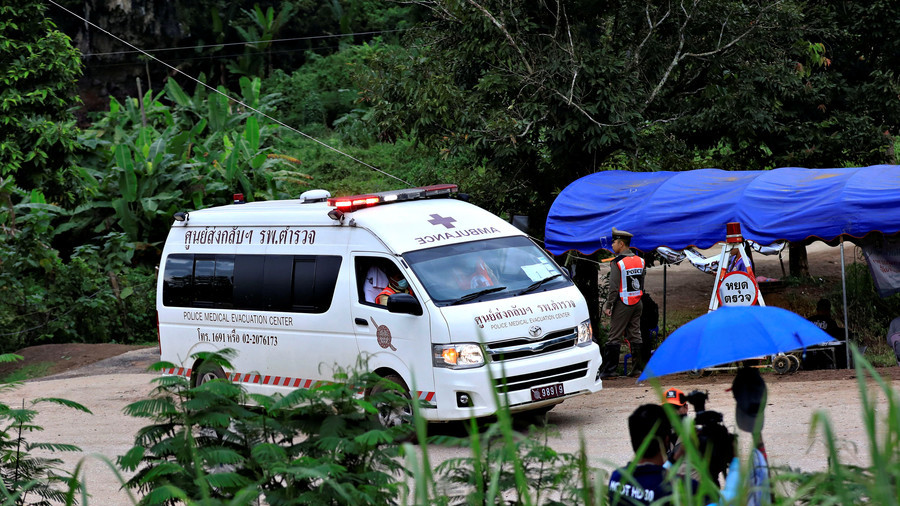 The rescue received blanket coverage in Thai media with newspapers The Nation running a "Hooyah!" Officials also said they are taking less medication, and can eat anything they want - good news for the boys who were looking forward to fried rice with basil. An American military diver added: "Those kids were proper knocked out".
At U-Tapao civil-military airport in Rayong province, near where the Royal Thai Navy operates out of Sattahip Naval Base, Thai navy SEALs and some foreign military personnel were given a hero's' welcome when they touched down on Thursday.
But Mr Prayut denied this, saying: "All of the children were conscious during the operation".
The first footage of 12 Thai soccer players after their rescue from a flooded cave this week shows the boys waving and flashing victory signs as they continue down their road to recovery.
There are concerns they may have consumed contaminated water, while bird or bat droppings could cause infections.
The last three Thai Navy Seals and a doctor emerged from the cave complex hours after the last boy was out. He lauded the cooperation between Thai and worldwide rescuers.
The toughest part of the journey out the caves was about halfway at a section called "T-Junction". Other helpers heave on ropes to haul the children up steep sections. Doctors were anxious about potential infections the children could have contracted in the cave.
"Some of them were asleep, some of them were wiggling their fingers".
In video shown at a press briefing, some of the parents were in tears as they looked through the glass.
The Director of Chiang Rai Hospital said that the boys will need to remain hospitalised for seven to 10 days and then another month of home recovery.
The film would honor Kunan and the hundreds of rescue workers and volunteers who risked their lives and selflessly gave their time to helping the stranded boys, Scott said. The others - ranging in age from 12 to 16 - and their 25-year-old coach were alert as nurses chatted with some of them.
The nerve-shredding three-day operation ended on Tuesday when the final members of the "Wild Boars" were freed from the cave which had held them captive since June 23.
Each of these arduous round trips took between nine and 11 hours for the global team of 18 divers. Their use meant that even if a boy panicked - perhaps because of getting snagged in a narrow passage - and got water inside his mask, the pressure would expel it.
The rescue has dominated front-page headlines in Thailand and beyond for days.
Dr Harris, who has 30 years of cave-diving experience and is known for his ability to retrieve people from hard places, had come up with the idea of giving the boys, many of whom can not swim, a mild sedative to ensure they did not panic while underwater, the Daily Mail reported.