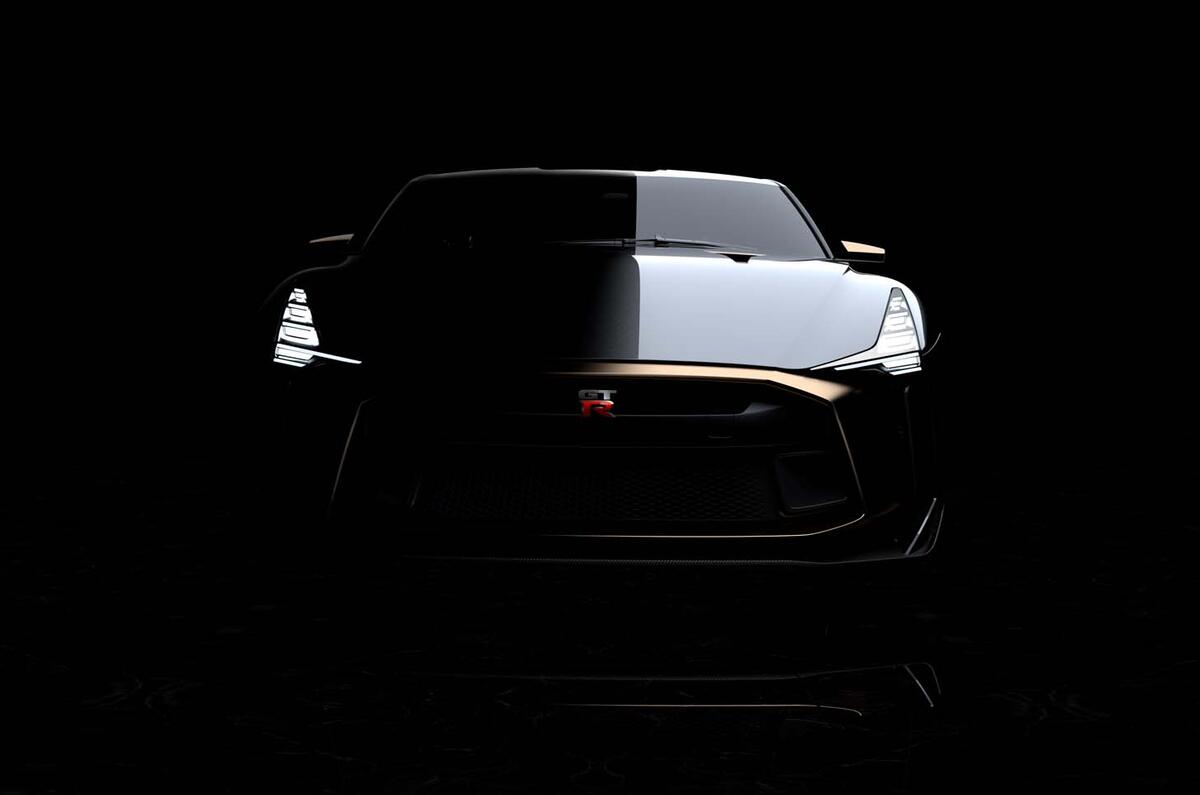 Nissan notes that this is the first ever collaboration between it and the design firm. The roofline has been lowered by 2.13-inches and sports a lower middle section. At the back, the quad circular tail lamps have been kept to identify it as a GT-R, but the curves around it have been created to make Godzilla more muscular to deliver a visually higher striking impact.
The rear of the vehicle keeps the GT-R's familiar circular tail lamps, but carves out the volume around them - giving a floating look.
The GT-R's twin round tail-lights are now a separate "floating" feature with thin light rings and hollow centres, below a large, adjustable rear wing on two uprights. It gets GT3 competition-spec turbochargers, larger intercoolers, a strengthened crankshaft, pistons, connecting rods and bearings and a bespoke exhaust system among other components.
The interior is swathed in carbon fibre and Alcantara, once again with gold accents.
In case you're thinking this might be a sneak peek at a future GT-R, Alfonso Albaisa, Nissan senior VP for global design, dispels that notion: "Although this is not the next-generation GT-R, it is an exciting celebration of two anniversaries in a provocative and creative way - wrapping one of Nissan's best engineering platforms and Japanese design with Italian coach building". The GT-R50 celebrates the 50th anniversary of both the GT-R and Italdesign, the design and engineering house based in Moncalieri, Italy. Italdesign were tasked with the development and engineering of the prototype, as well as the actual build. The gold trim from outside the auto is carried through to the inside, with gold accents decorating the instrument panel, doors and "futuristic, race-car-inspired" switchgear, the automaker says.
At the back there's a reinforced dual-clutch sequential six-speed transaxle, with stronger differentials and drive shafts. And the standard wheels have been replaced by some custom items that measure 21 inches, and spread 10 inches wide on the front and 10.5 inches on the rear.
The suspension wasn't left stock either and with the help of Bilstein, it now features the DampTronic continuously adjustable system.
The GT-R50 will premiere in Europe next month. "Two different carbon-fiber finishes are extensively used across the center console, instrument panel and door linings, along with black Alcantara and fine black Italian leather on the seats".
Right away we feel it's appropriate to point out what Nissan buries near the end of its press release: This is not the next-generation GT-R. Michelin Pilot Super Sport tires, sized 255/35 R21 in the front and 285/30 R21 in the rear, add a level of grip needed to harness the engine's power.