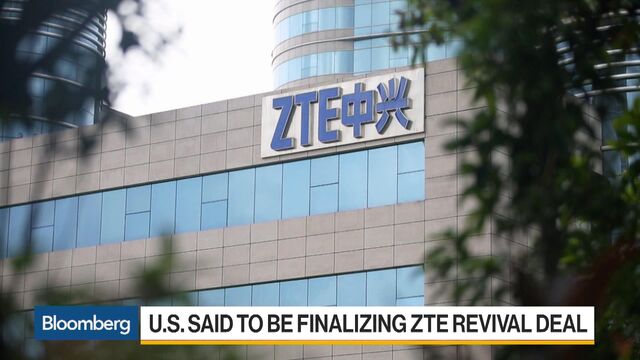 The Trump administration has struck a "definitive" deal with Chinese tech giant ZTE, Commerce Secretary Wilbur Ross announced Thursday, over strong congressional objections.
The fines agreed to on Thursday are in addition to $892 million in penalties which ZTE has already paid to the USA government under the previous settlement. Last year, the company was already fined $1.2 billion for violating USA sanctions.
The Chinese smartphone and telecom company ZTE will officially be allowed to do business in the USA again.
The deal includes a $1 billion penalty against ZTE and a compliance team, chosen by the USA, will be embedded at the company, Commerce Secretary Wilbur Ross told CNBC Thursday morning. The ban also hurt American companies that supply ZTE.
U.S. President Donald Trump met with his trade advisers on Tuesday to discuss China's offer to import an extra $70 billion of American goods over a year in hopes of defusing a potential trade war between the world's two largest economies. The White House didn't respond to a request for comment.
Total US penalties imposed on ZTE now amount to $2.3 billion, according to the Commerce Department. Not only that, but the entire board and executive teams must be fully replaced within 30 days from the time of signing the agreement. "They will pay for those people but the people will report to the new chairman", Ross stated. It agreed to pay $890 million in fines, dismiss four employees, and discipline 35 others by either denying them their bonuses or reprimanding them.
The compliance team will be in place for 10 years and monitor "on a real-time basis" ZTE's compliance with USA export control laws, the Commerce Department said in a release announcing the settlement.
"But to just shut the company down due to senior level management mistakes doesn't make sense nor help the global telecom market", he added. One of China's largest telecommunications companies is back on its feet today, thanks to a deal with the US government. He said the penalties should serve as a very strong deterrent for "other potential bad actors" to force compliance with US trade restrictions. Today, commerce secretary Wilbur Ross told CNBC that the U.S. struck a deal with ZTE to return it to business.
According to the Hong Kong-based English-language daily, "The reprimand and forfeiture of bonuses were part of the original settlement that ZTE had reached with the U.S. government".
The announcement boosted shares in U.S. component makers including Acacia Communications, Oclaro and Lumentum Holdings.
The company was fined $1.2 billion a year ago.