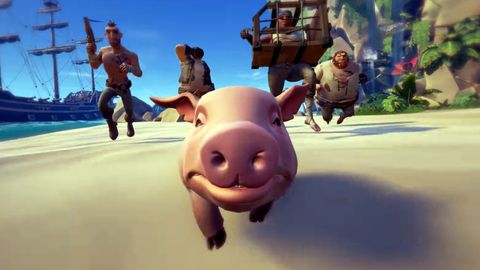 Alongside regular content updates, Sea of Thieves players can expect weekly events featuring various goals and new mechanics. "We will also be introducing a number of new mechanics to assist players on this adventure, and there will be unique rewards that players can earn as part of this event", Neate added. The centerpiece of the plan includes big content updates through the rest of the year. It's due in May and will introduce a "new AI threat" to the game that will "encourage players to interact in different ways" and "bring crews together" in new ways.
After The Hungering Deep, the studio said it's planning two more content updates during the summer.
"We are hugely excited to be beginning this phase of 'Sea of Thieves, ' and seeing where the adventure takes us", said executive producer Joe Neate.
From the sounds of it, weekly events seem like Rare is going to be both adding new things to the game and building upon what they've already got in the core game. Crew size isn't revealed, but my guess is that it will be a new ship for three-man crews as opposed to having an even larger ship for more players. Those events will introduce new mechanics, new ways to play with things like new hidden treasures, trading companies, and other things that enhance the world.
"This summer we'll debut Cursed Sails, which will include a new ship type, and Forsaken Shores, which will introduce players to a new perilous part of the world to explore", reads the blog.
In order to work on these content updates, Rare has changed the priority of the pets and ship captaincy updates after receiving player feedback, so don't hold your breath for those as they've been placed on the back burner for the time being.
With that, other tools will be added to the game that give crews more tools to communicate with other crews to make tracking down this threat more user-friendly. Each update will be free for all "Sea of Thieves" players.