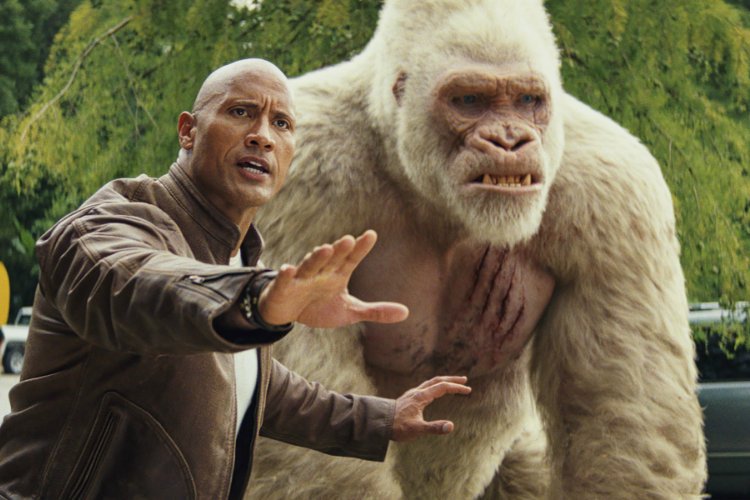 "Rampage" earned $11.5 million at the Friday box office.
But with a $120 million budget, the profitability of "Rampage" is still up in the air, as box office analysts who spoke with TheWrap agree that the film likely has just two weekends to make its money before Marvel's "Avengers: Infinity War" gobbles up screens and consumers.
However, the news is still excellent for the John Krasiniski-Emily Blunt horror flick, which scared up a more-than-respectable $32.6 million in its second week.
The almost $35 million gross, however, is certainly a win for the $120 million film, slightly beating expectations here in America.
Overseas, Rampage roared loudly in China, biting off $55 million for a foreign debut of $114.1 million and solid global start of $148.6 million. A strong rating like that suggests positive word-of-mouth, which may help the film do well into its second and third weeks.
Also scaring up ticket sales this weekend is Universal and Blumhouse's Truth or Dare, which will gross about $19.1 million from 3,029 North American figures. Audiences gave it a B-minus CinemaScore.
But thanks to the star power of Dwayne Johnson, Rampage made something of a recovery, opening to $34.5 million from 4,101 theaters, one of the best showings ever for a video game adaptation and enough to win the weekend ahead of holdover horror sensation, A Quiet Place.
Outside the top five, "Black Panther" finally fell out of the top ranks with a sixth-place total of $5.3 million in its ninth weekend.
Despite bad reviews and a luke-warn response from the movie-going public (scoring a dismal 15% on Rotten Tomatoes critical consensus, a 21% audience score, and a B- on CinemaScore) Blumhouse's Truth or Dare did earn an estimated $19 million on only a $3.5 million dollar budget. Pacing for $18-21 million in receipts, the film should keep its #3 position for the weekend.