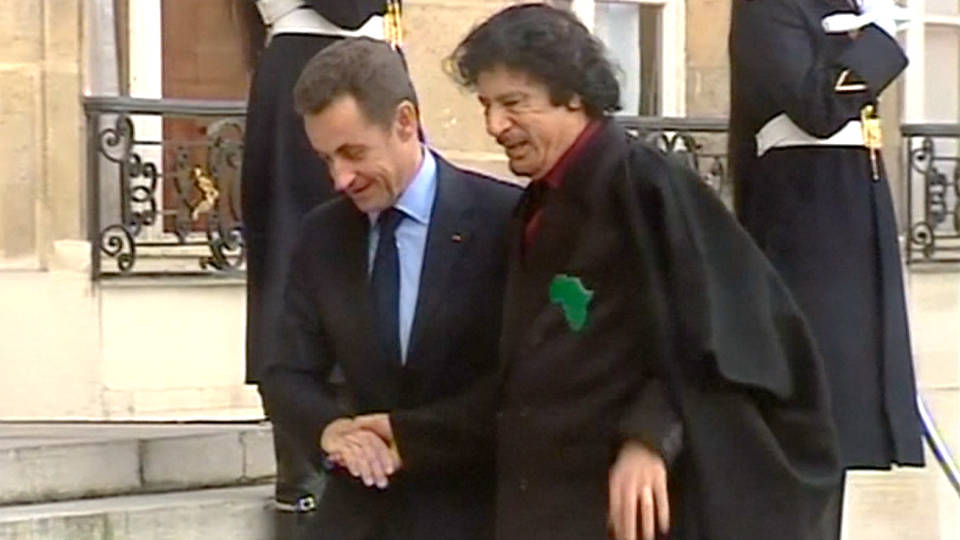 Former President Nicolas Sarkozy of France was placed under formal investigation on Wednesday as part of an inquiry into whether his 2007 election campaign received illegal financial support from the Libyan government of Col. Muammar el-Qaddafi.
Sarkozy is facing potential charges including illegal campaign funding and receiving the proceeds of the embezzlement of Libyan public funds, the source said.
Since 2013, investigating magistrates have been probing media reports, as well as statements by Kadhafi's son Seif al-Islam, that claimed funds were provided for Sarkozy's run at the presidency.
Investigators are examining allegations that Gadhafi's regime secretly gave Sarkozy 50 million euros (about $62 million) overall for his presidential election bid.
The sum is more than double the legal campaign funding limit.
Sarkozy, who served as French president from 2007-2012, has denied allegations he received funding from the Libyan regime. According to the same source, he again proclaimed his innocence during his questioning by police.
Sarkozy's opponent in the 2007 presidential election, former socialist politician Segolene Royal, was more severe, writing on Twitter earlier Wednesday that "despite challenging conditions, justice is making progress". Details of the restrictions he has been ordered to obey have not been revealed.
Sarkozy's auto left a police building in Nanterre, a Paris suburb, around midnight on Tuesday.
One of the party's lawmakers in northern France, Sebastien Huyghe, told BFM television he believed Sarkozy was the victim of "vengeance" by ex-Libyan regime members and by the French judiciary, with which he had a fraught relationship as president. Soon after winning the French presidency, he invited the Libyan leader for a state visit and welcomed him to France with high honors.
Sarkozy has dismissed the allegations as the rantings of vindictive Kadhafi loyalists who were furious over the French-led military intervention in Libya that helped end Kadhafi's 41-year rule and ultimately led to his death.
Sarkozy has faced other campaign-related legal troubles in the past. Sarkozy's lawyer said at the time that he would appeal that order.
In 2016, the site published an interview with a supposed middleman in the transaction who said he had delivered three suitcases full of what he believed to be 5 million euros in case to the interior minister Sarkozy and an associate in late 2006 and early 2007.
It is not the first time Sarkozy has been brought in for questioning.
Takieddine alleged he gave a third suitcase with 1.5 million euros in cash to the aide alone.