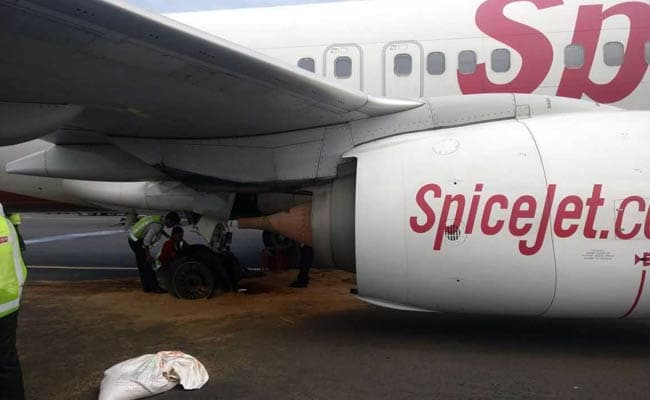 Six flights were diverted and 10 arrivals and 11 departures delayed at the city airport on Thursday after a SpiceJet flight, with close to 200 passengers, made an emergency landing following a hydraulic leak, suffered a tyre burst and got stuck on the main runway since landing at 2.25pm. The authorities said all the 199 passengers travelling in the plane are safe.
Meanwhile, the authorities were forced to shut down operations on the main runway for over three hours following damages caused to it during the landing and the aircraft got stuck in the taxiway. "Flights hampered. Rwy 07/25 not available till 1800 hrs", said a NOTAM (notice to airmen) from the airport. "On inspection, it was found to be tyre pieces and the SpiceJet flight was called back", Chennai Airport Director G. Chandramouli told IANS.
The Chennai Airport said on the micro blogging site Twitter, that around 1425 hours today the tyres burst and hydraulic problem caused the SpiceJet SG106 bound for New Delhi to make an "emergency landing". "The crew chose to turn back and landed safely at the Chennai airport, it said".
He clarified that the airport had not discontinued Tamil announcements about flight arrivals and departures.
All 100 passengers deplaned safely. "After the incident, we used the second runway for landings and takeoffs, leading to delays because taxiing time is more for departing flights".
According to a senior airport official, one of the jet's two tyres bust while taking off and the other while making an emergency landing in Chennai. Some of our flights to/from Chennai have been consequently affected.