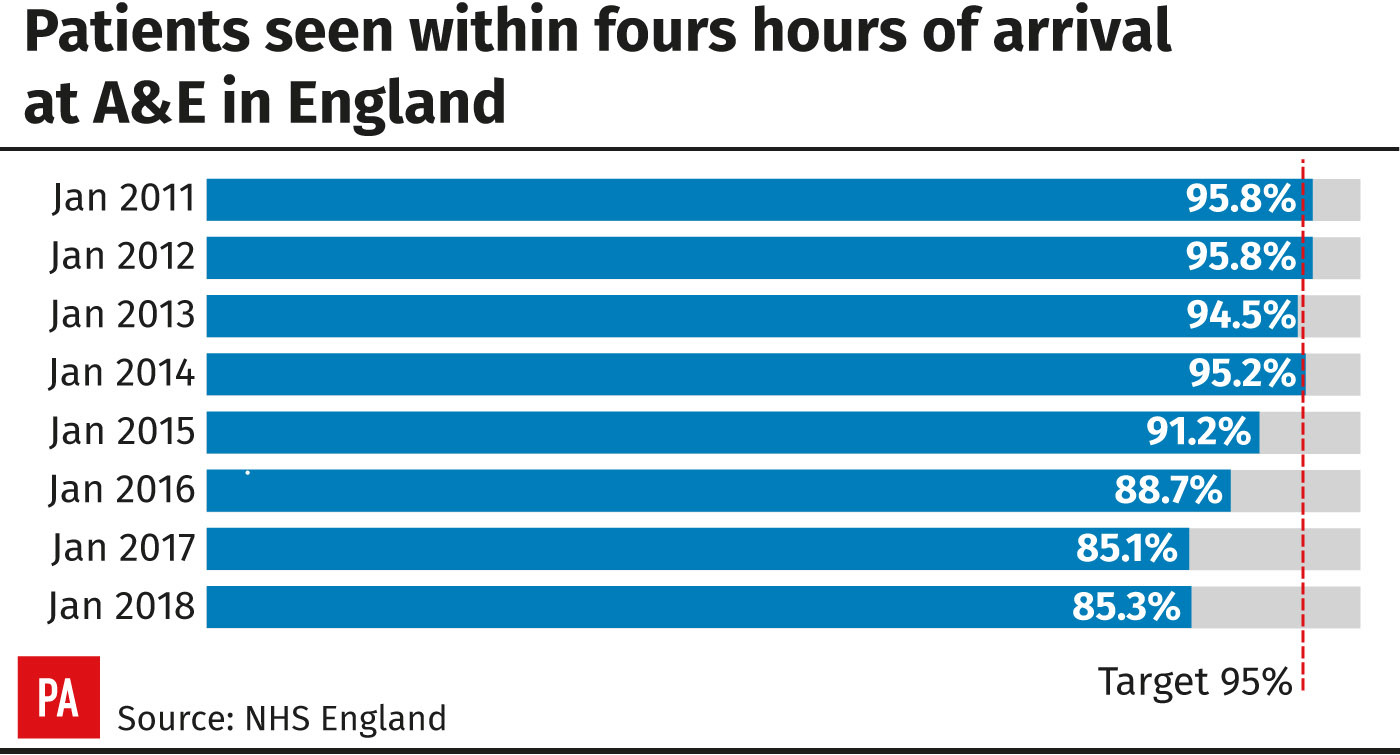 A spokesperson for NHS England said: Despite the worst flu season in seven years, A&E performance improved this month.
This is the first time the "trolley waits" figures have exceeded 1,000 and is more than double the 500 people who waited more than 12 hours in December.
Almost 7000 patients were seen within four hours or less out of a total of 7,500 people who attended the Bournemouth's A&E department.
"These pressures are a symptom of a far more long-term problem - we need proper investment in both the NHS and social care in order to treat patients quickly and safely all year round".
Royal College of Nursing chief executive Janet Davies said: "There's no more graphic illustration of how tough this winter has been for NHS patients and staff than the fact that last month, over 81,000 people going to A&E had to wait more than four hours for a bed in the hospital - the worst figure on record", she added. "These are the highest numbers since records began".
Many patients also faced long delays as they were handed over from ambulance to A&E, with nearly 30,000 people waiting over an hour since the beginning of this winter.
Experts said patients are dying prematurely because corridors have become "the new emergency wards" this winter, despite unprecedented efforts and planning by staff and the cancellation of tens of thousands of operations.
"Meanwhile waits for planned care are at their longest for nine years". But Professor John Appleby, chief economist at the Nuffield Trust think-tank, said the health service was "creaking at the seams".
NHS England defended the figures, saying they were an improvement on December and came as A&E units were besieged by patients suffering from the flu. "It is time to face facts and offer sustainable funding increases to the health service".
Hospital occupancy levels are running at 95% - well above the 85% limit.
The Society for Acute Medicine warned that "exhausted and stressed" doctors are working in services that could not keep coping with rising pressures.
NHS England said more than 1.7 million patients were seen within four hours last month, an increase of nearly 6 per cent on the daily average for the same month past year. Neither of these were unpredictable, but both have combined to cause the issues that have been widely reported across the country.
"Almost eight years of sustained underfunding of our health and care services have resulted in the worst winter crisis on record, with nearly 140,000 patients stuck in the back of ambulances for over 30 minutes".
"We're already starting to see some new innovations like paramedics trying to deal with patients in the community".
"But today's figures show that these short-term measures to create extra capacity in the NHS are insufficient to meet NHS performance targets. We now do not have adequate funding or capacity in our health or social care services and we need to urgently find a long-term solution".