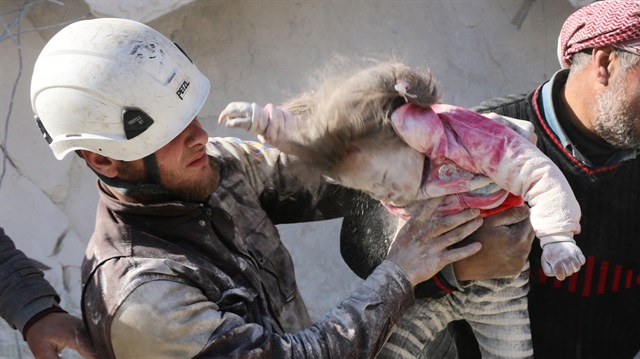 Turkey, which borders Idlib, has also called on Russian Federation and Iran to put pressure on Damascus to halt the offensive in a corner of Syria whose population has been swollen by Syrians fleeing government offensives elsewhere. The U.N. delivered aid to an average 7.5 million people each month a year ago.
Zeid said warring parties were obliged by law to distinguish between civilians and lawful military targets, and reports from Eastern Ghouta suggested of the attackers were flouting those principles, "raising concerns that war crimes may have been committed". The bombardment has killed 170 civilians over the last two weeks, according to the Britain-based Syrian Observatory for Human Rights monitoring group.
The UN High Commissioner for Human Rights [official profile], Zeid Ra'ad Al Hussein, on Wednesday condemned [press release] the rise in civilian casualties in the Eastern Ghouta region of Syria resulting from the recent increase in airstrikes and ground-based attacks by government forces and its allies, highlighting that all parties are "obliged under global law to distinguish between lawful military targets, and civilians and civilian objects".
Ninety-six civilians, including 27 children, have been killed since December 25 in Syrian or Russian air strikes on Idlib, according to the observatory.
Government forces had largely beaten back the counter-offensive by militants in Idlib by evening Thursday, the Observatory reported.
The government-controlled Syrian Central Military Media said the newly captured villages, include Freija, Jahman, Dawoudiyeh and Jub al-Qasab, bring the troops closer to the air base.
The push into Idlib province, the largest remaining territory held by rebels in Syria, is the deepest by the government since it lost much of the area three years ago.
One, a mother of twins, said she had initially left one of her children behind in the panic to escape the air strikes.
The IRC said almost two thirds of the displaced in Idlib are living in makeshift tents that are unable to withstand winter conditions while others live in abandoned or partially-build homes that have well water but no toilets.
Turkey is anxious about the deployment of Syrian regime forces and their allies in the north of Idlib, where they have established bases, which they said are part of an agreement with Iran and Russian Federation to establish a de-escalation zone in the province.
Rebel fighters recaptured a number of villages in the countryside of Idlib and Hama from regime forces.
The Syrian government hit back on Thursday against French criticism of its military campaign in rebel-held Idlib, saying it was targeting terrorist groups that were not party to an agreement to reduce fighting in the rebel-held region.
More than 340,000 people are estimated to have been killed in the Syrian war, which began in 2011 as the regime brutally crushed anti-government protests.
Assad's government says it is fighting a war on terror and describes itself is as a target of a US -led worldwide conspiracy. Lowcock, in Damascus, said he would like to see "more detailed evidence" about the claims, and said it would be topic of continued discussion with government officials.
The UN's humanitarian coordination office OCHA said on Wednesday that the situation in Idlib was "extremely chaotic", with newly displaced people reportedly scattered across open areas.