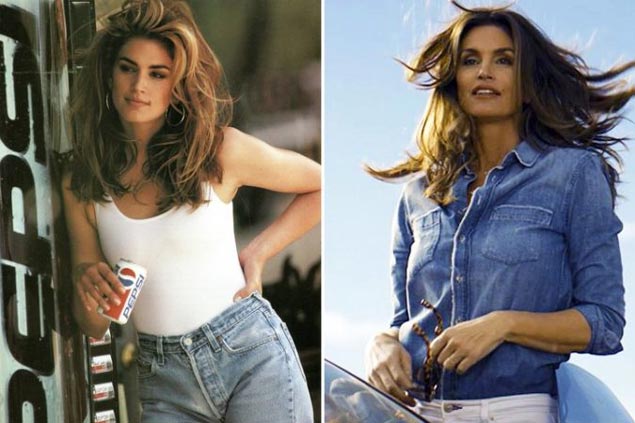 It features her son too. The Super Bowl 2018 ad with Cindy Crawford is kicking off the new Pepsi campaign along with Justin Timberlake's Super Bowl Halftime show.
"This is the Pepsi" TV Advertisement, Debuting at Super Bowl LII: To introduce the Pepsi Generations campaign, the brand will air a 30-second in-game advertisement called "This Is the Pepsi" during Super Bowl LII featuring iconic celebrities of Pepsi's past and present, including a new take on the famous 1992 Pepsi Super Bowl advertisement starring Cindy Crawford and this time, also her son Presley Gerber. The sneak peek - which will fully air during the Super Bowl on Sunday, Feb. 4 - shows Cindy, outside of a gas station, drinking a can of Pepsi in a denim shirt.
PepsiCo Inc.is devoting one of its coveted Super Bowl ads to its namesake soda brand and enlisting Cindy Crawford's help, as the beverage company tries to claw back some of its lost market share.
Pepsi Generations Live Pop-ups: Pepsi will present a series of pop-up exhibits in the US throughout the year featuring pop-culture milestones in Pepsi history.
Brand Pepsi has always been a fixture of the Super Bowl, and viewers have come to expect memorable ads from the company.
PepsiCo Inc., which was slammed a year ago for an ad that tried to play off current events, is looking for safer ground by reviving its past. Her plan was to buy a can of Pepsi, and of course, she looks stunning while doing so. "It was one of those moments in my career that when I walked down the street, people were like, 'Pepsi!' Or I'd be at a bar and people would send me over a Pepsi", she recalled to the outlet.
This isn't Crawford's first time revisiting the commercial, however.
PepsiCo, on the other hand, reported sales for its North America beverage unit fell 3% to $5.3 billion during the third quarter, prompting the company to say it would move marketing dollars back to Pepsi and Mountain Dew. "I am proud to play a role in this iconic pop-culture phenom and excited for fans to see our new take on the Pepsi spot".