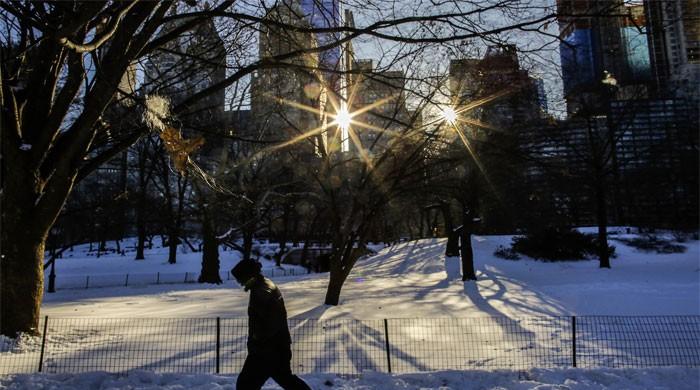 Maintenance crews were deployed to mop up the west end of the terminal, which saw about three inches of flooding, according to a Port Authority spokesman. Some worldwide flights destined for Terminal 4 will be diverted or accommodated at other JFK terminals. Moments after the rupture, sheets of water cascaded from the ceiling onto passenger waiting areas.
Nonetheless, the T4 operator said "there remains a residual backlog of baggage left at the terminal as a result of the winter storm and the water break".
Americans Airlines had 18 percent of its Saturday flights delayed, and 22 percent of its flights delayed on Sunday, while Delta Airlines had 17 percent of its flights delayed Saturday, and 19 percent Sunday. While departures were not affected, JFK airport managers warned passengers via twitter to expect "heavy" traffic into T4.
Rick Cotton, the executive director of Port Authority, said Terminal 4 is privately operated and that the authority is investigating what happened. "But what is not clear is why the pipe was not weather protected".
Electricity to the flooded areas of the terminal was shut off after the pipe broke to ensure safety and prevent short-circuiting, Cotton said.
"Total chaos post bombcyclone", another traveler wrote.
Multiple factors have contributed to the delays, including the accumulation of more than a foot of snow in areas of Queens on Thursday, below freezing temperatures Friday, an airport at its maximum capacity and a collision of two planes on the JFK runway early Saturday morning, according to aviation analyst Alex Macheras.
More than 500 flights into or out of JFK were canceled and almost 1,400 delayed from Friday morning to Sunday afternoon, according to the flight-tracking website FlightAware. Customers are experiencing delays, especially for worldwide flights.
Others reported waiting for hours for luggage, only to see their flight numbers disappear from baggage claim boards.
Also among the issues: two planes collided on the tarmac and a man was arrested with a loaded, stolen gun while going through security.
Hugo Zylberberg, a 28-year-old researcher, said while his 11-hour flight from Egypt was on time, it took an hour to find a gate, another hour at customs and then an hour and a half to wait for his luggage. The Port Authority said it was deploying additional staff and providing buses to assist travelers.
One passenger described Saturday's incident as a "near riot" to the New York Daily News. "People are getting upset".
"Look, when it's as cold as it was we'll cut the airport a little slack", he said.
Many passengers were stranded in planes on the tarmac for hours.