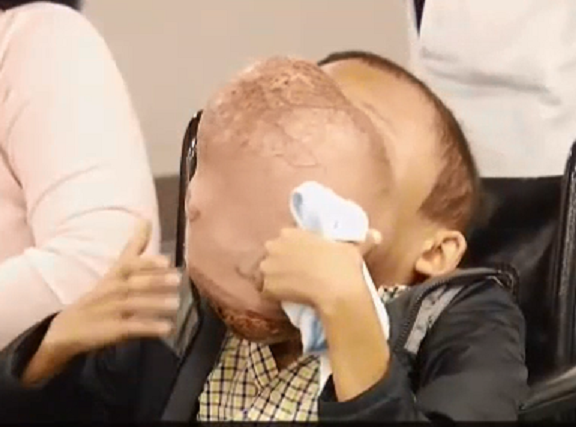 A 14-year-old boy suffering from a rare medical condition that caused a 10-pound tumor to emerge on his face died after undergoing surgery, according to one of the doctors in charge of the procedure.
Zayas died on the evening of Friday, Jan. 19.
Emanuel Zayas, 14, suffered from a rare medical condition called polyostotic fibrous dysplasia, an illness which causes the body to replace portions of bones with soft tissue.
It affected the way Emanuel walked, talked and left him unrecognizable.
Doctors were able to control the condition with medication when he was younger, but at age 11, what was thought to be a pimple on his nose turned out to be an ossifying fibroma.
In the face of Zayas' death, social media has erupted with sympathy for the boy, whose plight had by then made him a viral sensation. "I translated and shared comments with him and his parents since the beginning of the campaign".
She went on to say that both she and his family were 'saddened' that the outcome of the surgery was not what they expected.
The boy and his parents, Noel Zayas and Melvis Vizaino, flew to Miami in November on humanitarian visas for a consultation with Dr. Robert Marx, the chief of oral and maxillofacial surgery for the University of Miami Health System who was connected with the family by US missionaries.
What is Polyostotic fibrous dysplasia? It is hoped that it will provide clues for better understanding - and treating - polyostotic fibrous dysplacia sufferers around the world.
He added that his team's hopes of allowing Zayas a better quality of life "have not been realized".
The tumor threatened to suffocate the boy because it rested on his trachea.
Emanuel ZayasEmanuel Zayas surgery despite Cuban medics fears.
The operation was initially deemed successful but Emanuel tragically died from kidney and lung failure a few days later on 18 January.
His parents, Noel Zayas and Melvis Vizaino are pastors of an evangelical church in Santa Clara.