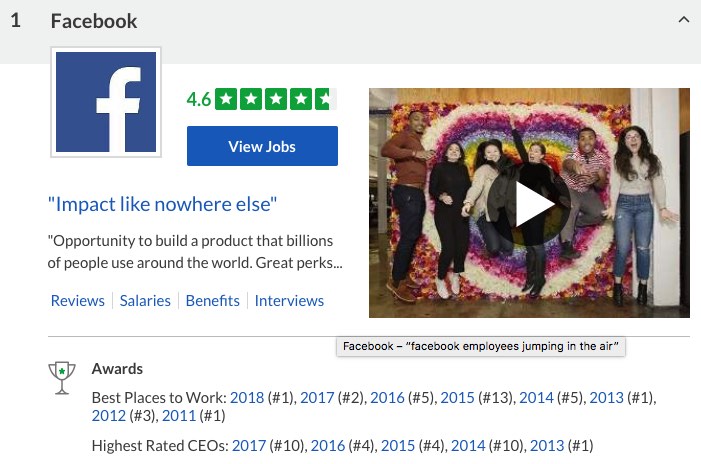 Facebook for the third time in the last eight years has been rated by Glassdoor as the best place to work based on employee feedback. "What we really see them appreciate most is the company's mission-driven culture, transparent leadership and the fact that their work literally impacts the lives of billions of people worldwide".
Current and former employees give their input about their experience in the workplace, which Glassdoor then compiles.
"We know today's job seekers are more informed than ever about where they go to work, researching everything from company culture to career opportunities to pay philosophy and more", said Robert Hohman, CEO of Glassdoor.
Rice noted that annually, the Glassdoor list of best places to work is dominated by tech companies, so it's quite the exception for a service company to be ranked so high. Facebook also offers competitive salaries - the average software engineer earns $126,780 a year - alongside comprehensive benefits and perks: four months of paid parental leave for new mothers and fathers, $4,000 doled out to parents for each child birth, subsidies for pre-school tuition and lots of free food.
A handful of other other Bay Area companies also made Glassdoor's top 100 list.
The Employees' Choice Awards campaign relies exclusively on the input of employees, who provide feedback on their jobs, work environments and companies via Glassdoor. The winners are determined using Glassdoor's proprietary algorithm and are based on reviews and ratings employees shared during the past year. The business goal is simple: To Sell More Homes, More Profitably™.