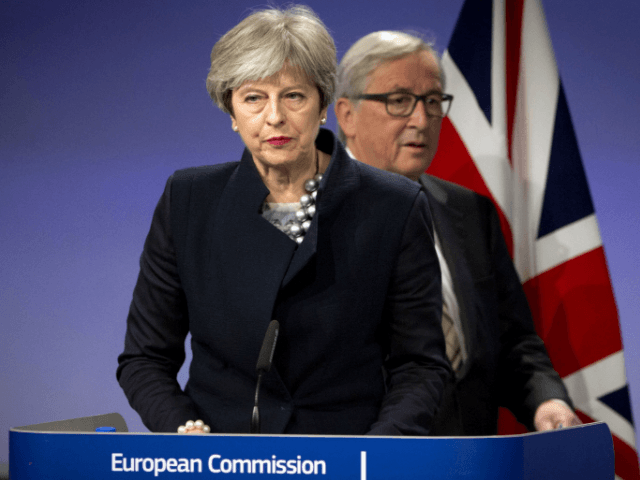 Theresa May is on her way to Brussels following overnight talks on the issue of the Irish border.
A breakthrough deal on the first stage of Brexit has been dramatically secured by British Prime Minister Theresa May after making "sufficient progress" in early-morning European Union talks.
The DUP also said that its support for the final deal would depend on its contents, and that it had cautioned British Prime Minister Theresa May about its reservations.
EU President Donald Tusk had triggered fevered speculation on Thursday about a deal when he announced that he would make a press statement on the Brexit talks at 0650 GMT on Friday.
A mooted agreement between the United Kingdom and European Union on divorce issues including the Irish border, which would allow talks to progress to the future trade relationship, was torpedoed on Monday by the DUP.
May has confirmed the deal would ensure "no hard border" in Ireland, adding that there will be "no barriers between north and south, east and west".
Craig Erlam, senior market analyst at OANDA, said: "The response in the pound to the announcement may come as a surprise given just how significant today's agreement is, but it's worth noting that this has been in the making over the last couple of weeks and it was in both sides' interest to get this done today".
The pro-British DUP party which props up May's government refused Monday's draft deal over a phrase suggesting there would be "regulatory alignment" with the European Union after Brexit - effectively putting Northern Ireland under European Union law.
DUP chief whip Sir Jeffrey Donaldson said: "Discussions are ongoing". "It's an ongoing process", the spokesman told reporters.
Moving to talks about trade and a Brexit transition are crucial for the future of May's premiership, and to keep trade flowing between the world's biggest trading bloc and its sixth largest national economy after Britain leaves on March 29, 2019.
Time has been running out for the Prime Minister as she attempts to do a deal to allow leaders at the European Council summit on 14 December to declare "sufficient progress" has been made on divorce issues so trade talks can begin.
Foreign Secretary Boris Johnson has insisted any Brexit deal must stick to the spirit of the Leave campaign.
Maintaining a soft Irish border has become the key sticking point in negotiations on divorce issues, which also include the rights of European Union citizens in the United Kingdom and vice versa after Brexit, and a financial settlement.