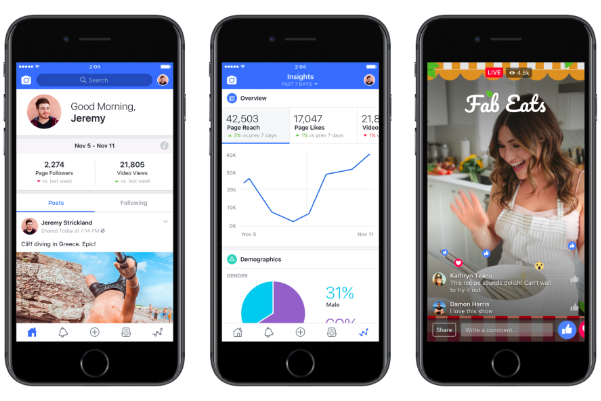 It's called Facebook Creator, and it includes a bunch of tools for streaming video, updating Stories, and message people across several of Facebook's platforms.
Facebook is going all in on video.
"While we have made significant progress in our work to empower the creation of user generated content from friends, and premium content from publishers, we have historically neglected the creator community on Snapchat", said Evan Spiegel, noting how that would change in 2018.
The social network has been focusing hardcore on video lately, with a big push into live video broadcasts, 360-degree videos, stories, auto-playing clips in the news feed, as well as the launch of a dedicated place to watch videos on Facebook.
Facebook is also providing a best practices guide - "Facebook for Creators" - a la YouTube's certification program and "YouTube Playbook" or Vimeo's Creator Handbook.
Called Facebook Creator, the app will help the community create original video, go live with exclusive features and connect with their community on the social media giant.
Facebook also appears to be pushing creators towards its Live service, including creative tools which simplify the process of creating real-time broadcasts.
Facebook first announced the Creator app at VidCon in June. "And if you're a creator, no matter what you're passionate about or how far along your journey you are, you can find fans who share your enthusiasm on Facebook". You can then add custom live stickers that viewers can interact with, and graphic frames for your brand. A community tab will house all the messages that creators receive through Facebook, Instagram and Messenger, allowing them to review and respond in one place instead of three. The app will also provide its own camera effects and frames.
The app will only roll out to iOS users to start with from today onward, but expect an Android version to come soon. It also shows analytics about your Page, videos and fans.
Simo, in her post, said she met last week with three of Facebook's top creators - Jody Steel (3.1 million followers) Markian (1.3 million), and Jay Mendoza (274,000).
In fact, users found it so annoying that many updated their Facebook account settings to block third party app invites altogether.