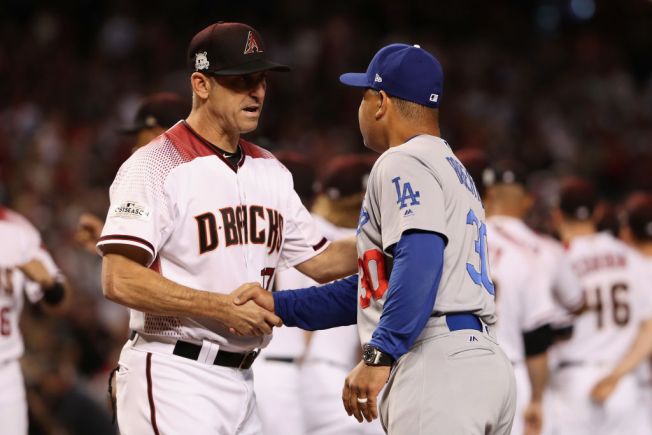 Paul Molitor and Torey Lovullo are the Baseball Writers Association of America's Managers of the Year for 2017.
Lovullo, who is the seventh manager to win the award in his first season as a manager, guided the Diamondbacks to a 93-69 season-a 24-win improvement from 2016.
The Twins went 85-77 this season and earned their first playoff spot since 2010 before losing to the Yankees in the AL wild-card game.
Lovullo (111 points) received 18 of the 30 first-place votes to easily outdistance Dave Roberts (55) of the Los Angeles Dodgers and Bud Black (43) of the Colorado Rockies.
How's that for a rookie campaign? Craig Counsell of the Milwaukee Brewers finished fourth and Dusty Baker, who was sacked by the Washington Nationals, finished fifth. Baker, who also received six second-place votes and two thirds, was dismissed by the Nationals a little more than a week after they were eliminated in the National League Division Series. Nobody expected a postseason berth for the Twins - perhaps not even their front office, because they were sellers at the trade deadline. Joe Girardi, who wasn't brought back by the Yankees, finished fourth.
A Hall of Fame player during a 21-year career with Milwaukee, Toronto and Minnesota, Molitor became just the second Cooperstown inductee to win manager of the year honors, joining Frank Robinson, who won AL honors as the Baltimore Orioles' manager in 1989.
Roberts finished second with 5 first place votes, 8 second place votes and 6 third place votes.
Paul Molitor of the Minnesota Twins was named Lovullo's counterpart as the American League Manager of the Year. Turns out it was enough to give Molitor this award too.