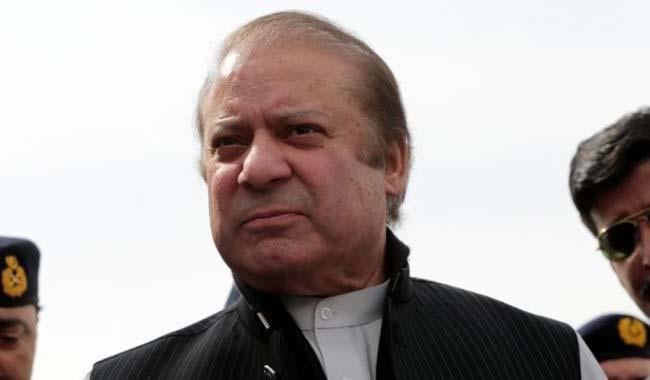 Ousted prime minister Nawaz Sharif appeared before accountability court on five occasions while Maryam Nawaz and Captain (r) Safdar seven times.
Former Pakistan prime minister Nawaz Sharif on Tuesday challenged the accountability court's decision to not merge the three references filed by the National Accountability Bureau (NAB) in the Islamabad High Court.
Nawaz Sharif stated that he has to look after his ailing wife Kulsoom Nawaz in London; therefore, he should be granted the leniency for one week.
The former premier and his sons, Hassan and Hussain, have been named in all three NAB cases, while Maryam and husband (Capt.) Muhammad Safdar have been named only in the Avenfield reference.
The NAB deputy prosecutor urged the court to declare Hassan Nawaz and Hussain Nawaz as proclaimed offenders as the process of ensuring their presence has been completed.
The second witness Federal Board of Revenue's (FBR) Jahangir Ahmad also appeared before the Court to record his statements.
Moreover, Hussain and Hasan Nawaz were declared proclaimed offenders due to their continuous absence.
The court has summoned four another witnesses to record their statement. He asked for one week exemption from November 20.
The Sharifs had then exited the court leaving Nawaz's representative Zafir Khan to attend the remaining proceedings on his behalf.
She vented her anger on her official twitter account stating that Imran Khan's case was far more serious in terms of legal implications than Iqama joke and the nation was now waiting to see the decision in his case.
Mansoor, the witness in the Avenfield reference, recorded her statement in the court. She informed the judge that she had appeared before the NAB Lahore team on August 18 and also provided the required documents.
She added that she provided NAB with the 2000-2005 audit report of Hudabiya Paper Mills.
After Mansoor recorded her statement and was cross-examined, the court recorded the statement of Ahmed, the witness in the Al Azizia reference.
Earlier a bench of the IHC granted Sharif's request with regard to clubbing together the three corruption references filed against him, and revoked the accountability court's Oct 19 verdict, directing it to reconsider the request.
Other Pakistan Muslim League - Nawaz (PML-N) leaders including Tariq Fatemi, Saad Rafique, Talal Chaudhry and Marriyum Aurangzeb were also present during the hearing.
Thus, he added, separate references cannot be filed against him, requesting the court to club together all three references.
To a question, he hoped the trial would be fair.
It was the 12th hearing of Avenfield properties and Azizia Steel Mills references and 13th hearing of the Flagship Investment reference.
Orders have also been given to confiscate their shares in six companies.