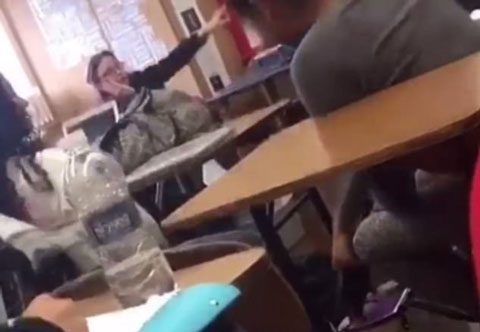 Cliffside Park High School administrators have not commented on what disciplinary action students will face.
A viral 25-second video of a teacher asking her students to speak "American" has sparked controversy at a New Jersey high school.
"This is a teacher in Cliffside Park High School; she isn't allowing the student to express his constitutional right".
"I'm concerned about the kids", said Mario Valladares. The teacher is heard on the video saying, "They're not fighting for your right to speak Spanish, they're fighting for your right to speak American".
"Most of our faculty is either Hispanic or from a different race, different background", says student council president Kleidon Ndreu.
Students say the Cliffside Park principal warned over the loudspeaker that anyone who walked out of school would be disciplined.
Students walked out of class after an English teacher told them that men and women "are fighting for your right to speak American" after she caught them whispering in Spanish.
The original tweet said: "CPHS will be protesting for our rights to speak and represent any of our cultures. bring your country's flag, shirt, jersey or anything to represent where you're from". One student is even seen on video picking up a bag and leaving the classroom. "It won't be the last time, it won't be the first time, but addressing the situation hopefully will change something", said high school junior Jasmeen Velasco. There's a lot of teachers who respect us'.
Meanwhile, others are defending the teacher, who has been identified on social media, as a "great person" and a "wonderful teacher".
It's understood that the woman in the video is an English teacher at the school but was substituting for a colleague's math class.
I told you to practice your English, " said Pinales.
It's reported that other teens are planning a walk-out Monday morning.
Students said those who walked out of the teacher's classroom in response to her comment were not reprimanded.
"You go to school to learn, you don't go to feel attacked by someone you believe is an educator", alumni Marvin Moreno told the station.
"If someone doesn't speak the language, I'm gonna speak English to them", she said.