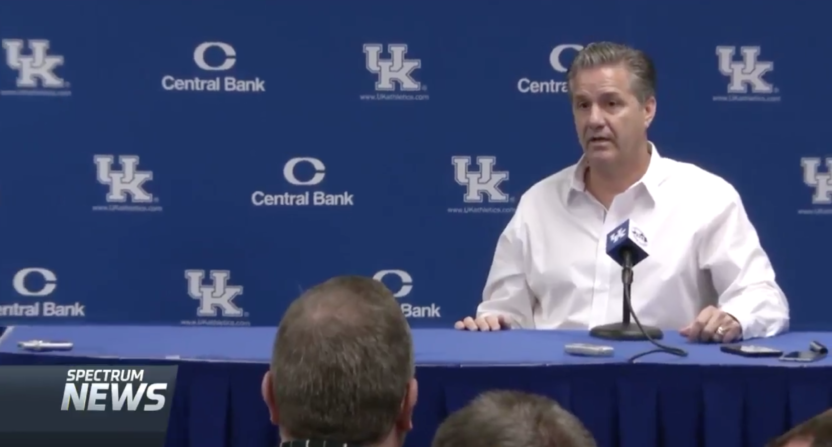 Kentucky Wildcats head coach John Calipari reacts to a call during the 2017 NCAA Men's Basketball Tournament South Regional Elite 8 at FedExForum on Sunday, March 26, 2017 in Memphis, KY.
The scandal has also led to Louisville placing both head coach Rick Pitino and athletics director Tom Jurich on administrative leave.
"I am entitled to ask a question", Tipton continued.
As Jerry Tipton of the Lexington Herald-Leader asked a question on the topic of the Federal Bureau of Investigation after that request, Calipari pointed to another reporter who had a question, signaling to get their question instead of the first one. "What reassurance would you give your fan base, the Big Blue Nation, if they're anxious about what this could mean?"
Calipari said he doesn't know where the situation is going and decline to comment further on the subject.
Tipton: "John, one more question about the Federal Bureau of Investigation".
But, as I've repeated over the past few weeks, there are still way too many unknowns to be able to accurately predict where all of this is headed next.
"If we had Jarred playing, you could play without a point guard because he could be the point guard". "That stuff happened over there, maybe there's other schools that go through it, or might be going through the same things".
Calipari: "Well, that makes it true". I haven't been contacted. We're going about our business and coaching this team. "How about a basketball question, since it isn't "my day"?"
The reference to Nike's potential involvement stems from reports last month that the Nike Elite Youth Basketball League was served with a subpoena.
Calipari better hope his program doesn't become implicated in the corruption scandal the FBI is investigating, because if it does he will probably have to answer more than a few questions about it.